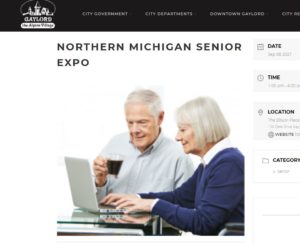 Our table at the 2021 Senior Expo in Gaylord was a huge success! We had over 200 people stop by to say hello, ask a few questions about wills and estate plans, pick up a snazzy shark keychain/bottle opener, and enter the drawing for our tasty gift basket from the Alpine Chocolate Haus. Thanks for all of you who stopped by!
And don't forget to join us at the 2022 Senior Expo, to be held again at the Ellison Place in Gaylord, on Wednesday, September 7, 2022, from 1:00 to 4:00 pm. 
f you have  any questions about estate planning, including wills and trusts, be sure to contact us. We can help with all of your estate planning needs. As Ben Franklin said, "Those who fail to plan are planning to fail." So don't fail to plan … come and see us, and we will help you with an estate plan that works for you and your loved ones, and works within your budget. And for any of your other legal needs, be sure to contact us; we are a full-service law firm, serving the people of northern Michigan for over 50 years. 

Northern Michigan's Most Trusted Legal Team for Over

50

Years