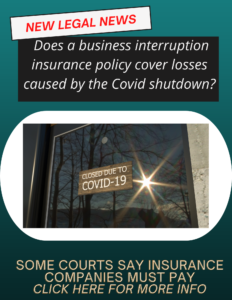 If you own a business which lost money during the Covid-19 shutdown and have an insurance policy covering losses due to "business interruption," most federal and state courts have tended to side in the insurance companies' favor in lawsuits brought by business owners. But some state courts are ruling against insurance companies and finding that business interruption insurance policies may cover your losses.
https://tinyurl.com/bizinterruptionIns
It's a complicated legal issue, but if you want an attorney to look at your business policy, give us a call.
If you have any questions about insurance policies or any business matters, be sure to contact us. Alan Couture has been helping small business owners with their legal needs and flyspecking insurance policies for over 30 years. 
Atkinson Petruska Kozma Hart & Couture, PC

Northern Michigan's Most Trusted Legal Team for Over 50 Years